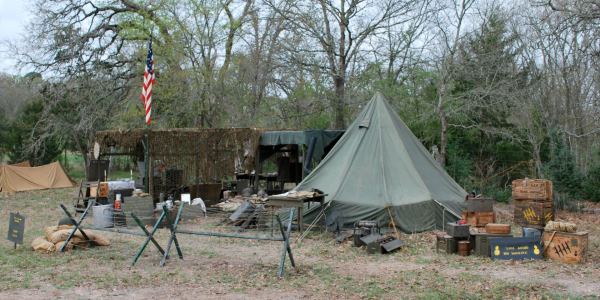 Camp Lili recreates a United States Army Signal Corps Company encampment based on a signal company attached to the 441st Anti-aircraft artillery battalion, a part of "Camel Force" which invaded southern France between Cannes and St. Raphael in August of 1944 as part of Operation Dragoon.
This area was spear headed by the 36th Infantry Division (shoulder patch of Camp LiIi) to which the 441st was attached. Once the beach was secured, the 36th fought up the Rhone Valley to join U.S. Forces from the Normandy invasion.
Almost all equipment and displays at Camp Lili are original WW2 era items. In addition to static displays, the following items are demonstrated, many of which visitors may participate in: carrier pigeons and signal flags, field phone EE-8, switchboard BD-71, telegraph TG5A, signal lamp SE-11, Aldis lamp, portable organ, field phonograph, and demonstrations and blank firing of Garand, M-1 carbine and M1911 pistol.
Camp Lili is a private collection dedicated to preserving the history of WW2 and honoring those who did their part. It is a traveling exhibit and upon request items from the following categories can be included in display: home front memorabilia. Remember Pearl Harbor items, correspondence (including V mail, postcards, etc.), soldiers' records and papers, photographs, and a variety of other items. Visit @camplili on Facebook.
Camp Lili will be participating in Camp Hearne's Remembering D-Day Living History Event, June 8. Please join us on this special day. Admission is FREE!  Gates open 10am to 4pm.  Camp Hearne is located northwest of Hearne on FM485.   Visit camphearne.com for more information or contact Cathy Lazarus at 979-314-7012.